How you can help
Smart Shelter Foundation welcomes your support. This can be in the form of sharing knowledge and experience. And of course it's also possible to make a donation for our construction and research projects.
If you would like to make a financial contribution to our projects, please wire your donation to our bank account via the details given below. We prefer this option, as in most cases, and mostly within Europe, the bank transfer is free of costs.
If you wish to arrange your donation by credit card or online by credit card, you can use the free and secure payment method of PayPal. Simply press the button below and fill in the requested information. In this case, a minor percentage of your donation goes to Paypal (but fortunately we are in the lowest percentage category).
If your donation is related to the Torino-Nice Rally, please fill out the form
below and indicate Torino-Nice Rally in the PayPal transfer description.
We'll make sure you receive the TNR-Patch and Route card which includes a FREE komoot premium access voucher code! A big thanks to komoot and Thank You for your donation and support.
Note: By submitting the contact form below, you agree that we will only share your details with TNR.
| | |
| --- | --- |
| Account Name: | Stichting Smart Shelter |
| Account Number: | 43.60.25.469 |
| Bank Name: | ABN AMRO Bank NV |
| Bank Address: | Stadhuisplein 12 |
| Bank Area Code: | 2405 SH |
| City and Country: | Alphen aan den Rijn, The Netherlands |
| IBAN number: | NL80 ABNA 0436025469 |
| BIC / Swift code: | ABNANL2A |
| Recipient Address: | Distelstraat 5, 2402VT |
| City and Country: | Alphen aan den Rijn, The Netherlands |
| Link to PayPal: | |
About Your Donation
Smart Shelter Foundation takes great care to account for all expenditures so that you know exactly where, how and on what your donation is spent.
SSF is 100% transparent with its partners, sponsors and donors. We document our projects and expenditures in detail and provide full disclosure to the public through our annual report. Between 2005 and 2012, we did all of our work on a voluntary basis and paid no expenses to the board or team members. The figure below shows that during this period, an average of 97% of your donations went to our projects in Asia.
Since 2015 we have entirely shifted our activities from "developing work" to "developing technique". For the moment we are not directly involved in building projects, but we focus on researching and improving the overall building quality in developing countries, with a special focus on the seismic behavior of low-cost building techniques. Your donation will be spent on this research which we do under the name SMARTnet. More information about our unique research project
Tax Hallmark
The Smart Shelter Foundation is a so-called ANBI, which means that we've been recognised as a charitable foundation by the Dutch tax authorities. This has the advantage that we don't have to pay tax on any donations we receive. To obtain this status, we've to comply with certain rules and regulations set by the Dutch tax authorities. You can find more information about this status here.
Our Partners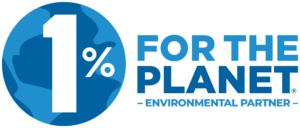 Smart Shelter Foundation is since October 2022 a partner of
1% For The Planet For more information 
From 2005- 2020 Smart Shelter Foundation worked closely with local partners during the execution of our construction projects. In Nepal, we've had a long-standing and fruitful relationship with the SEED Foundation, led by Mr. Damodar Bhakta Thapa, which we highly recommend to other organisations.
In the past, we've successfully worked with the following organisations:
| | |
| --- | --- |
| Stichting Star Children | Dutch NGO |
| World Vision Nepal | Nepali NGO |
| Child Welfare Scheme Nepal | Nepali NGO |
| Hivos | Dutch funding agency |
| Impulsis | Dutch funding agency |
| CRWRC | Canadian relief organization |
Our Sponsors
Smart Shelter Foundation would like to thank all donors, sponsors, people and organisations for their contributions over the years!
We want to give an extra big THANK YOU to James Olsen and all the riders from the Torino-Nice Rally. As well as to the teams at Komoot,  DP6 Architectuurstudio,  Café Du Cycliste, and Kona Bicycles.
You've been a great support, thank you!